In recent years, dark mode has become a popular feature in many apps and operating systems, and Snapchat is no exception. If you're tired of the blinding brightness of Snapchat's default interface, or you simply prefer a sleeker, more visually appealing look, dark mode might be the solution for you. In this comprehensive guide, we'll show you how to turn on dark mode on Snapchat for both iOS and Android devices, as well as on the web version of Snapchat. So, let's dive into the world of Snapchat dark mode.
What is Dark Mode?
Dark mode, or night mode, is a color scheme that uses light-colored text on a dark background. Instead of black letters on a white background, it's the opposite, with white letters on a black background. This option makes your screen emit less bright light, which is easier on your eyes, especially in darker places. Also, it can help your device's battery last longer if it has certain types of screens, like OLED or AMOLED, because it can turn off some of the tiny dots that make up the screen when showing the color black.
On Snapchat, turning on dark mode changes the look of the app. Instead of white, it becomes dark and stylish. This not only makes it look better but also makes it easier to use when it's not very bright around you, like at night.
Also Read:- Send A Snap With Cartoon Face Lens On Snapchat
Benefits of Dark Mode
Easier on Your Eyes: Dark mode is comfortable on your eyes, especially in the dark or at night, because it uses softer colors.
Helps You Sleep: Using dark mode before bed is better because it doesn't have the bright, sleep-disturbing light.
Saves Battery: If your phone has an OLED or AMOLED screen, dark mode can save battery because it uses less power.
Focuses Your Attention: It makes what's on your screen stand out better, so you can focus on it more.
Looks Cool: Some people find the dark mode very cool.
Privacy: It can keep your screen from lighting up everything around you in public.
Lasts Longer: On certain screens, dark mode can help your screen last longer because it's gentler on the pixels.
How to Turn on Snapchat Dark Mode on iPhone/iOS Devices
Enabling dark mode on Snapchat for iOS devices is a straightforward process. Follow these simple steps:
Update Snapchat: Make sure you have the latest Snapchat version installed on your iOS device, as dark mode was recently introduced in an official app update.
Open Snapchat: Launch the Snapchat app on your device. Look for the Bitmoji icon in the top left corner of your screen.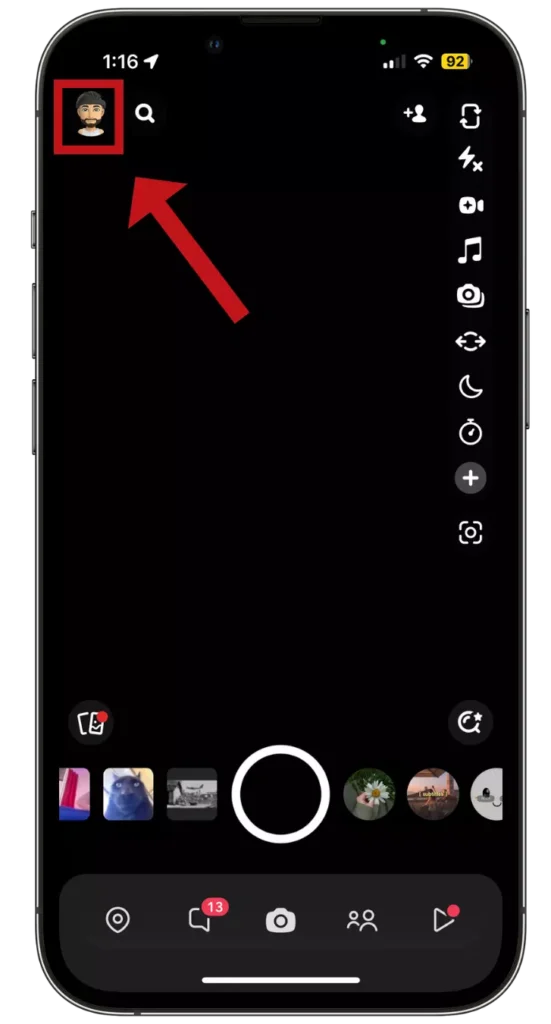 Access Settings: Tap the Bitmoji icon, and then click on the gear-shaped settings icon in the top right corner of your screen.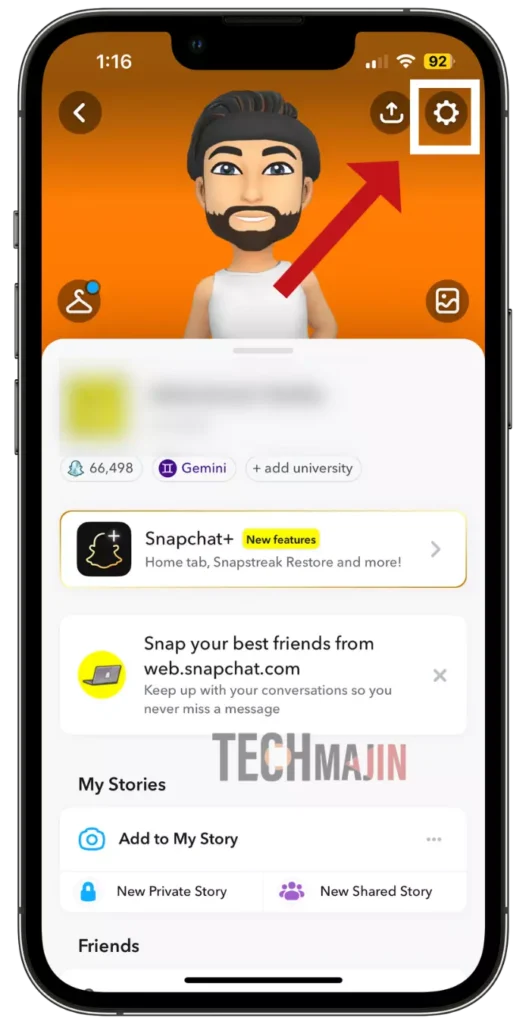 Scroll Down: Scroll down a bit until you see the 'App appearance' option, and tap on it.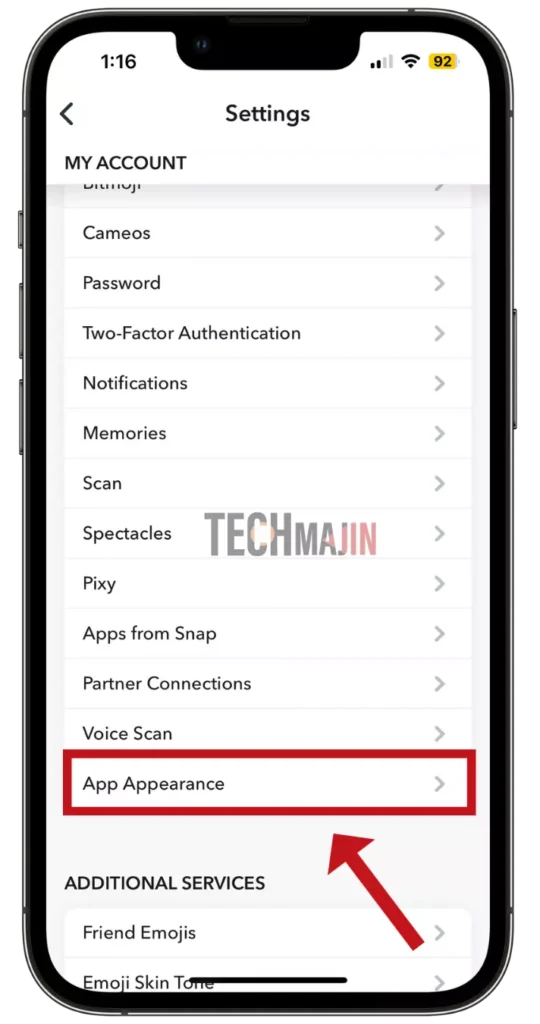 Choose 'Always Dark' Mode: Among the options available, such as Match system, Always Light, Always Dark (Dark Mode), and Custom mode, select 'Always Dark' mode to enable dark mode on your Snapchat.
How to Enable Dark Mode For Snapchat On Android Devices
Android users can follow the steps shown for iOS users to enable dark mode on the Snapchat app. However, if you encounter difficulties in turning on dark mode, you can try an alternative method:
Open Settings: Tap the gear icon to open your phone's settings.
Go to Display settings: Look for 'Display and Brightness' and tap on it.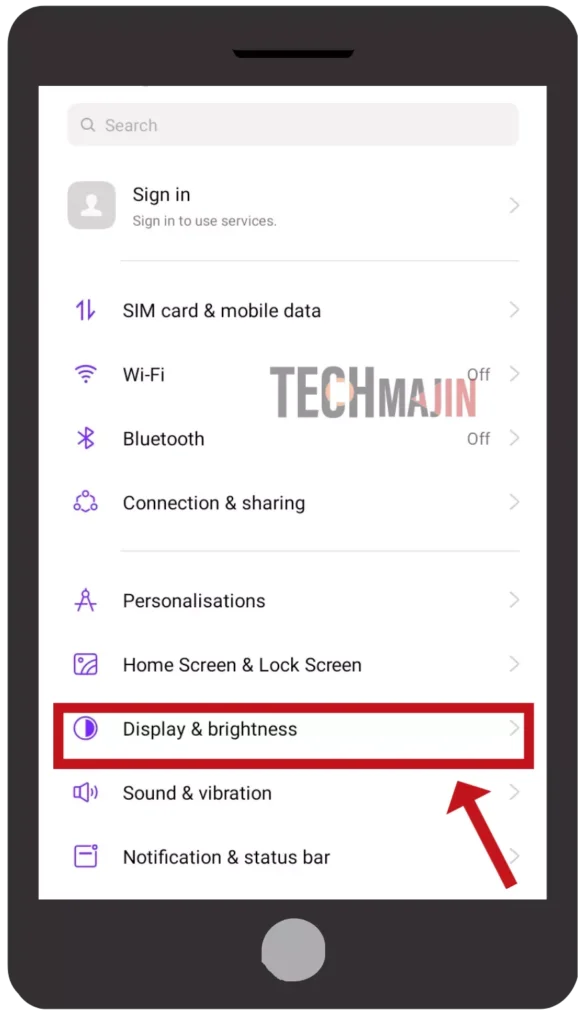 Find Dark Mode: Search for the Dark Mode and Light Mode settings. You can see them in the picture below.
Turn on Dark Mode: Click on 'Dark' to get Dark Mode on Snapchat. This might also change your Snapchat app to Dark Mode.
Remember: These steps are for Realme mobile phones. Other phones might have slightly different steps, but you can usually find similar Dark mode options in your Display and Brightness settings. If you're still having trouble locating the dark mode option in your device's settings, you might want to refer to your device's user manual or search online for instructions tailored to your specific device.
How to Turn on Dark Mode For Snapchat Web
Snapchat's web version also offers dark mode, making it convenient for users to access the platform from their web browsers. To activate dark mode on the web version of Snapchat, follow these steps:
Open Your Web Browser: Start by clicking on your web browser icon and go to the Snapchat website at web.snapchat.com.
Log In to Your Snapchat Web Account: If you have not logged in, enter your Snapchat username and password to access your account.
Find Your Account Settings: Look for your Bitmoji icon in the top left corner of your computer screen and click on it.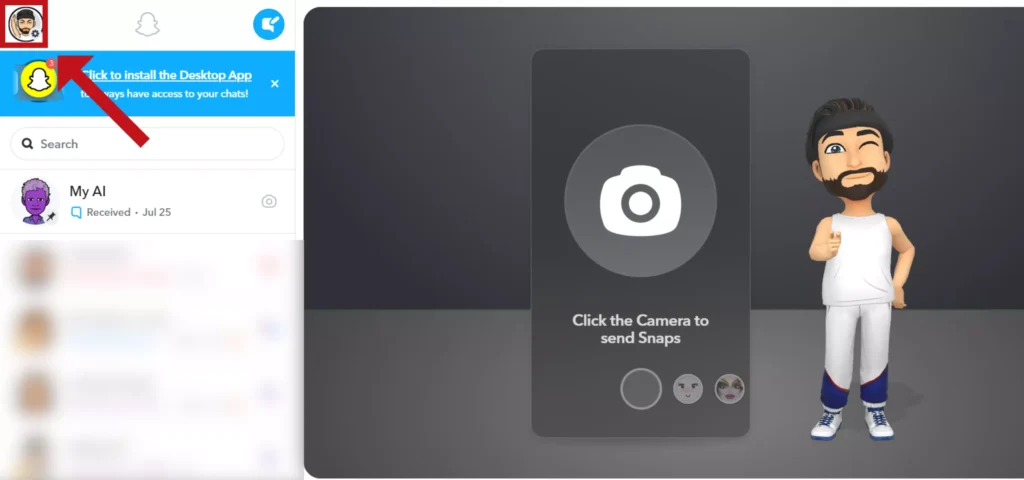 Turn on Dark Mode: Now, click the 'Theme' option. You'll see three choices: 'Follow the system theme, Always light, and 'Always Dark. To make Snapchat's web version dark, pick 'Always Dark.'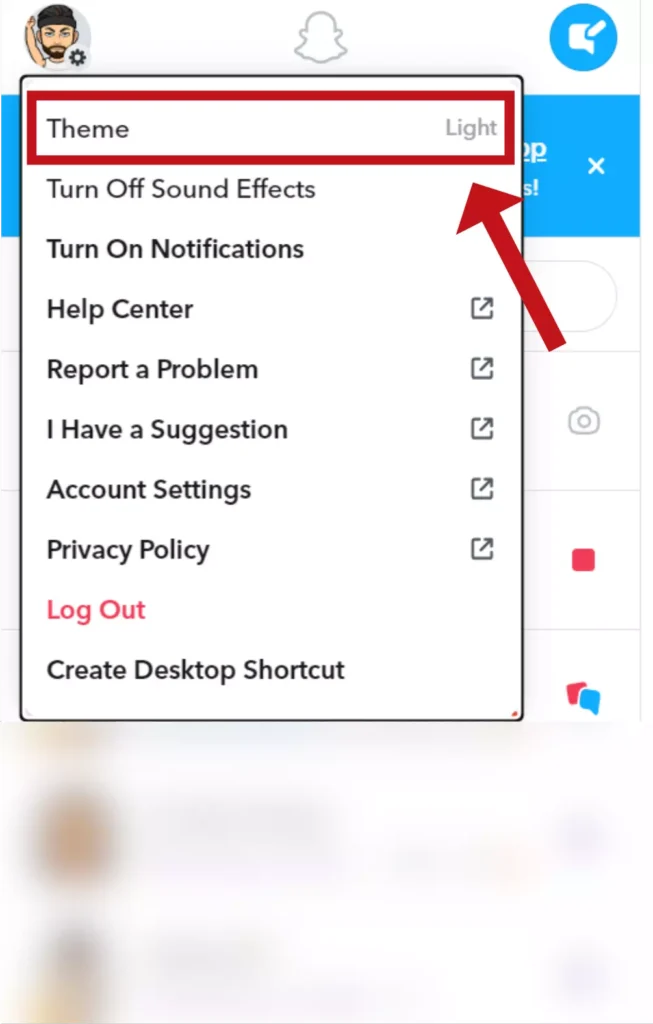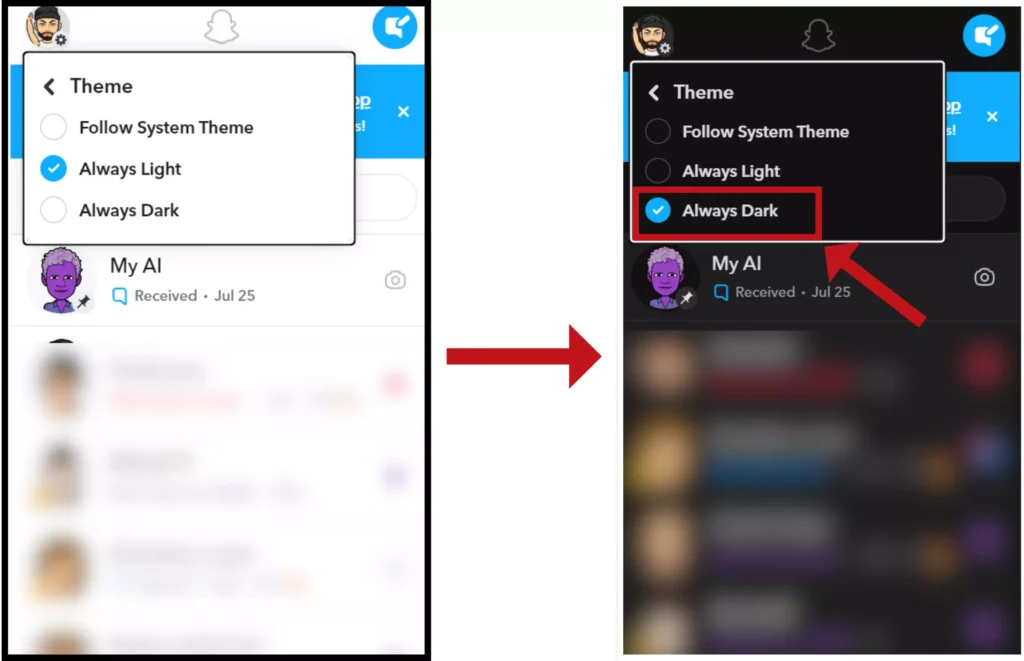 Enjoy the Dark Look: Once you've done that, the Snapchat website will switch to dark mode, giving you a more comfortable and stylish way to use it.
Also Read: What Does POS mean on Snapchat
Conclusion
The dark mode is an excellent feature available in many apps, including Snapchat. It makes the app look darker and is easier on your eyes, especially at night. Plus, on some phones, it can save battery.
We hope this guide helped you to know how to turn on dark mode on Snapchat, whether you have an iPhone or Android, or use it on the web. It's easy to do and can make Snapchat look better while being kinder to your eyes and your battery.
If you have any suggestions feel free to contact us!
FAQs
Why does my Snapchat not have dark mode?
Snapchat has now introduced Dark Mode to their app. If you can't find it, simply update your app from the Play Store (for Android) or the App Store (for iOS).
Which phones have Snapchat dark mode?
Almost all phones that support the Snapchat app have Dark Mode available.
Is forcing dark mode safe?
Forcing Dark Mode on your device or applications is generally safe and won't harm your device. Most devices and apps have a Dark Mode option built-in, which you can enable or disable based on your preference. Enabling Dark Mode through these official settings is safe and designed to work seamlessly.
Is dark mode good for the eyes?
Dark mode can be easier on your eyes because it reduces the bright light from screens. It's especially helpful when it's dark around you. It also makes text easier to read by making it stand out more. However, what's comfortable for your eyes can vary from person to person, so you should use the mode that feels best for you.
Does dark mode save battery?
Dark mode can make your device's battery last longer. This happens because dark mode uses less power on screens that can turn off individual tiny lights (like OLED or AMOLED screens). Dark mode has a mostly dark background, so it doesn't light up as many tiny lights, which saves energy.
Does Snapchat have a dark mode on its app?
Yes, Snapchat now has a Dark Mode option in its app.
Source: