In the ever-evolving world of social media, filters have become an integral part of our digital personas. They allow us to transform ourselves temporarily, giving us a glimpse into different versions of ourselves that we might never have considered otherwise. One filter that lots of people like is called the "Buzz Cut" filter. It's a filter that makes it seem like you've shaved your head short, like a buzz cut. If you've ever wondered, "What would I look like with a buzz cut?" but didn't want to get the haircut, this filter is for you. In this article, we'll guide you on how to get the buzz cut filter on TikTok and Snapchat, helping you achieve that striking look with just a few taps on your screen.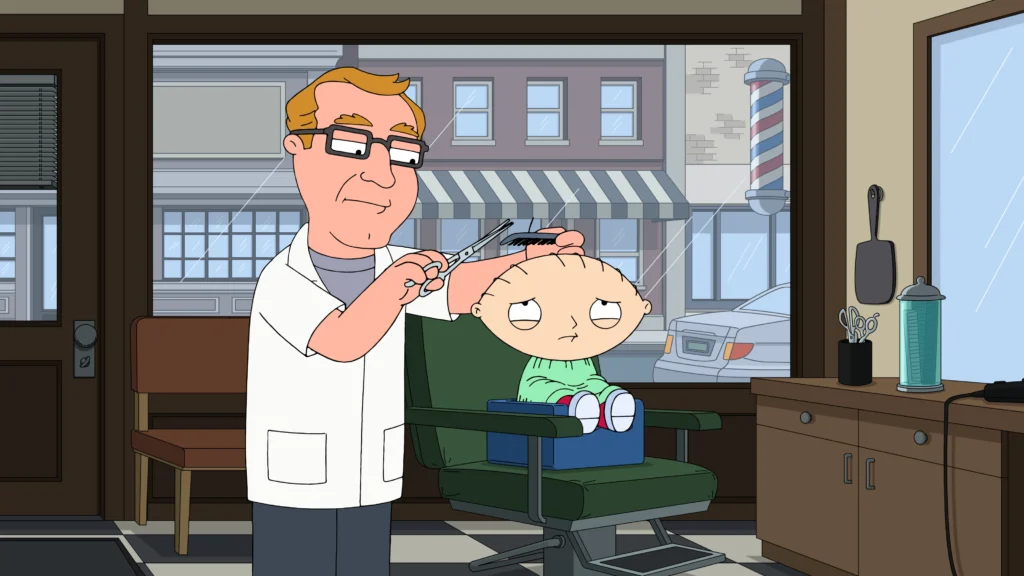 Understanding the Buzz Cut Filter
Before we understand how to use the Buzz Cut filter on TikTok and Snapchat, let's discuss what this filter does. It's like a pretend haircut that makes it look like you shaved your head short, almost like a soldier's haircut. It makes your hair disappear in pictures and videos, so you look super neat and clean. This filter is perfect if you're curious about trying a buzz cut or want to see how it would look on you without cutting your hair.
TikTok: Exploring the Buzz Cut Filter
TikTok has lots of cool filters and effects to play with, and finding the Buzz Cut filter is pretty simple:
Open the TikTok App: Launch the TikTok app on your smartphone or tablet. Ensure you're using the latest version of the app to access the most recent filters. If not, update it from your App Store or Play Store.
Access the Camera: Tap on the "+" button at the bottom of the screen to create a new video, or choose to go live.
Find the Filters: Once you're in the camera mode, you'll see various icons on the screen, including effects. Tap on the "Effects" icon, which is like "Face shape"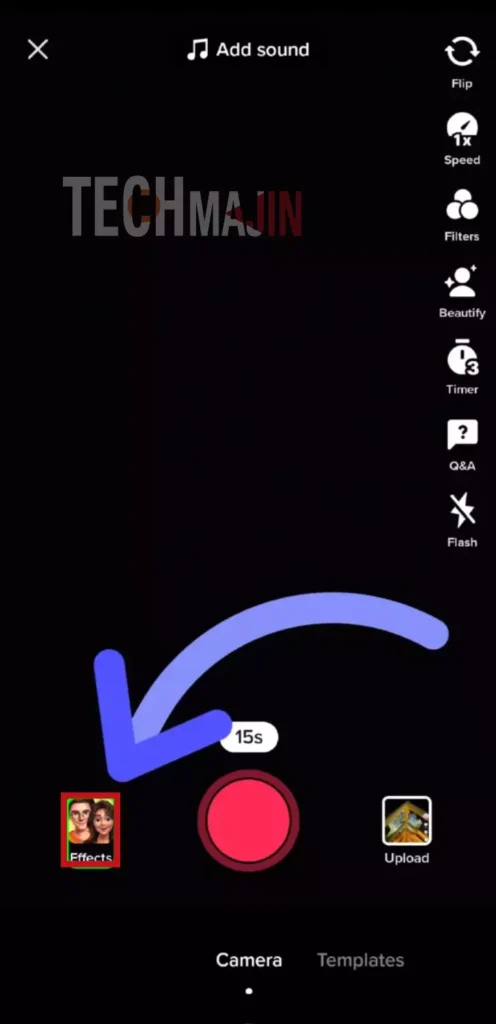 Search for "Buzz Cut": In the search bar at the top of the Effects gallery, type "buzz cut filter" or "buzzed head filter." TikTok will display relevant filters.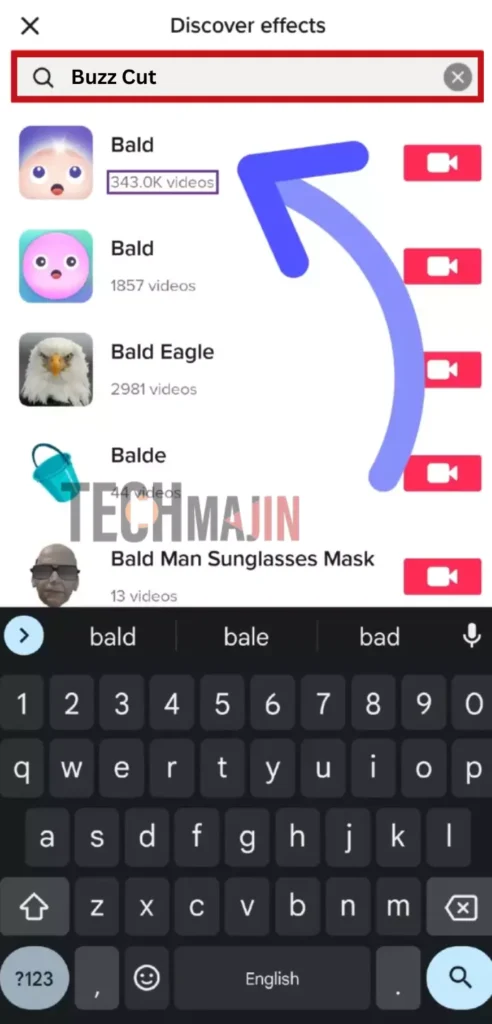 Apply the Filter: Select the buzz cut filter from the search results, and doing so will apply the filter to your TikTok video. You can adjust the intensity or position of the filter by using on-screen controls.
Record or Capture: Now, record your video or take a photo with this filter. Experiment with different angles and expressions to see how you would look with a buzz cut.
Snapchat: Embracing the Buzz Cut Filter
Snapchat is known for its amazing filters like Cartoon face filters, Doggy face filters, Anime filters, and many more. Follow the steps given below to access the Buzz cut filter on Snapchat:
Launch Snapchat: Open the Snapchat app on your device. Make sure you have updated your Snapchat app to access the latest features and filters.
Go to the Filters option: Click on the "Microscope" option on the right side of the screen to access the filters on Snapchat.
Search for "Bald Filter": In the search bar at the top of the screen, type 'Bald Filter' or 'Bald and beard' to get the Buzz or Crew Cut filter.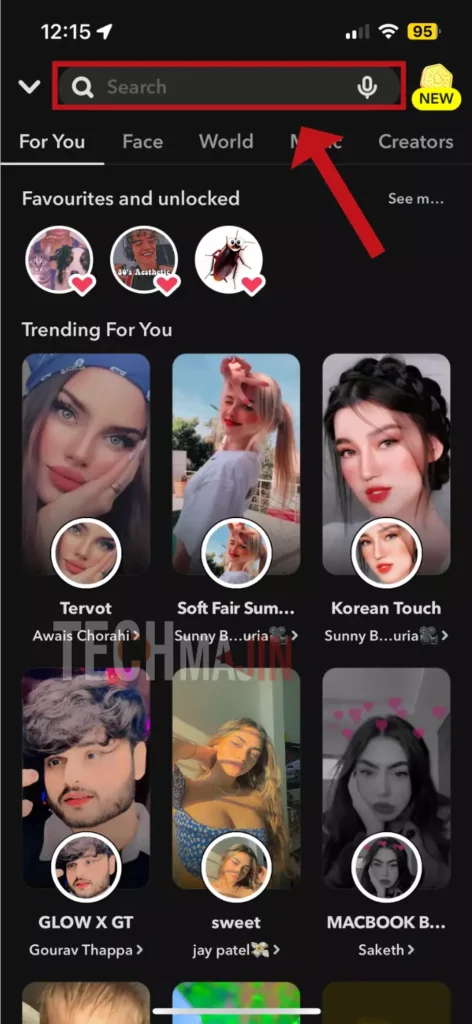 Apply the Filter: Snapchat will display a list of filters related to your search. Now click on any of these filters shown in the image given below.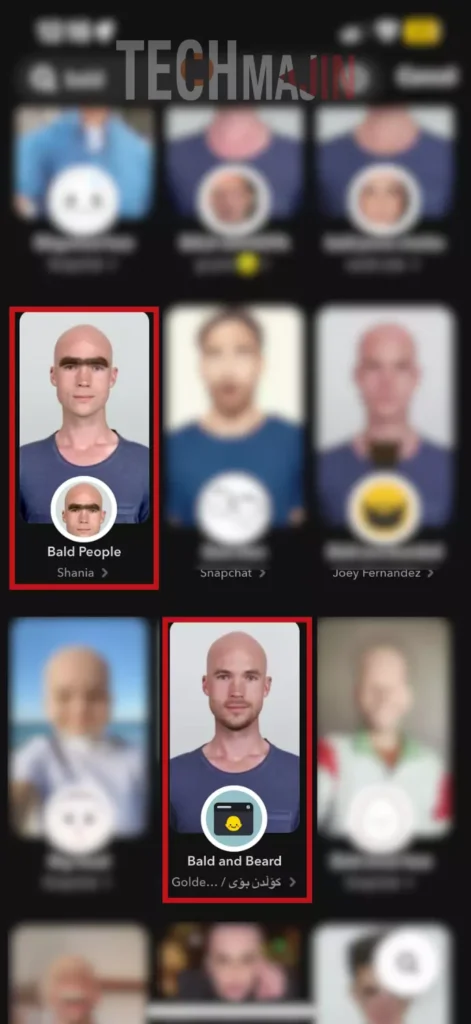 Capture Your Look: With this filter activated, you can now take photos or record videos.
Customize and Share: Once you've taken your picture or video, you can use Snapchat's tools to add fun stickers or draw on your picture. When you're happy with how it looks, tap the send button to share it with your friends, or you can put it in your story for everyone to see. It's a fun way to show off your buzzed-head look!
Tips for Getting the Best Buzz Cut Filter Experience
Good Lighting: Make sure you're in a place with good light. Filters work better when there's enough light, and your buzz cut will look more real.
Try Different Faces: Make different faces when you use the filter. Try looking serious, happy, or even silly. It's fun to see how you'd look in different moods.
Share and Have Fun: Don't be shy! Share your pictures or videos with the Crew Cut filter with your friends. It's all about having fun and trying something new.
Keep Your Apps Updated: Remember to update your TikTok and Snapchat apps regularly. This way, you'll always have the newest filters and cool effects to play with.
FAQs
How can I know if I would look good with a buzz cut?
Knowing if you'd look good with a buzz cut depends on personal preference and your face shape. Trying the Crew Cut filter on social media apps like Snapchat and TikTok can give you a fun idea, but remember, beauty is subjective.
Is there a buzz-cut filter?
Yes, there's a Crew Cut filter available on platforms like TikTok and Snapchat. It lets you virtually sport a buzzed head without the actual haircut.
Do girls think buzz cuts are attractive?
Attractiveness is subjective, and opinions vary. Some girls find buzz cuts attractive, while others prefer different styles. Confidence and personal style play a significant role in what someone finds appealing.
Are there different variations of the Buzz Cut filter?
Yes, there can be different variations of the Buzz Cut filter. Some filters may simulate a very short buzz cut, while others might make it look a bit longer or styled in various ways, offering different virtual haircuts for you to try.
Source: WikiHow