Cartoons are not just for kids anymore as they are loved by people of all ages around the world. Snapchat has made this love for cartoons even more exciting by introducing cartoon face lenses. Now, you can send snaps that look like your favorite cartoon characters. This new feature has changed the way we can have fun and communicate on social media.
If this made you interested, keep reading as in this blog, you will learn how to turn your regular photos into amazing cartoon characters using Snapchat, whether you are using an Android phone or an iPhone.
The Rise of Cartoon Filters
Integrating technology with art has created a fun new way to express ourselves: cartoon filters. Snapchat's new cartoon face lens was not just a passing trend, rather it was a big change that let people feel closer to their favorite cartoons from Disney, Pixar, Dreamworks, and more. This exciting wave of creativity is not just a one-time thing. It is a way to celebrate our memories of the past, the joy of art, and who we are as individuals.
Also Read:- Know POS Mean on Snapchat
Why are Snapchat Cartoon Filters Popular?
Nostalgic Connection: They evoke memories of childhood and beloved characters.
Creative Expression: They provide a unique way to communicate emotions and personality.
Viral Trends: They have become a sensation on social media platforms, encouraging more users to try them out.
Step-by-Step Guide to Send a Snap Using Cartoon Face Lens on Snapchat
Here's a detailed guide to bring your cartoon fantasies to life on Snapchat:
Open the Snapchat App: Launch Snapchat from your phone's app drawer or home screen.
Navigate to Filters: In the camera section, tap the 'Search icon' at the top next to your profile picture.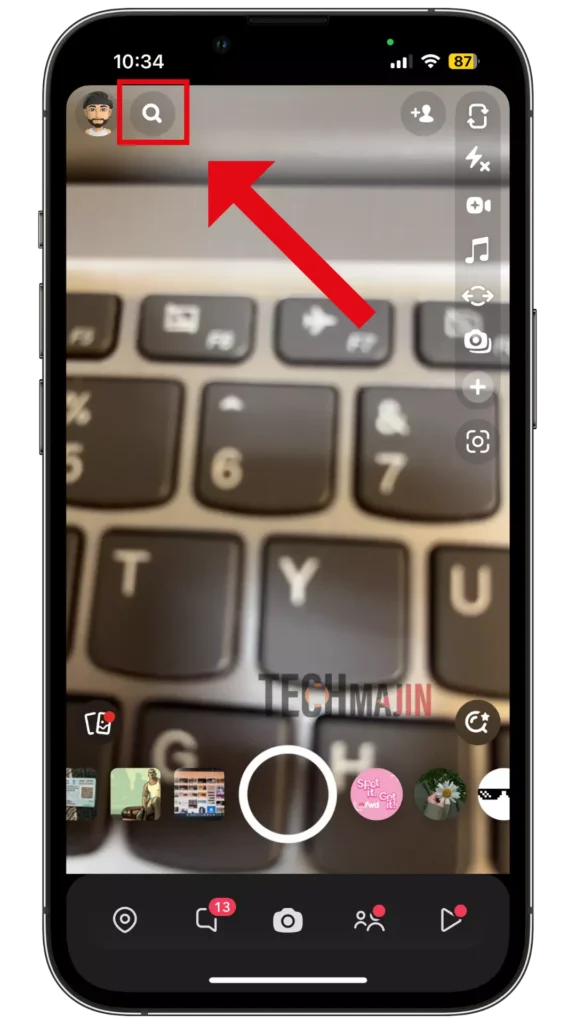 Search for Cartoon Face Lenses: In the search bar, type "Cartoon Face" to find a selection of lenses that transform your face into a cartoon.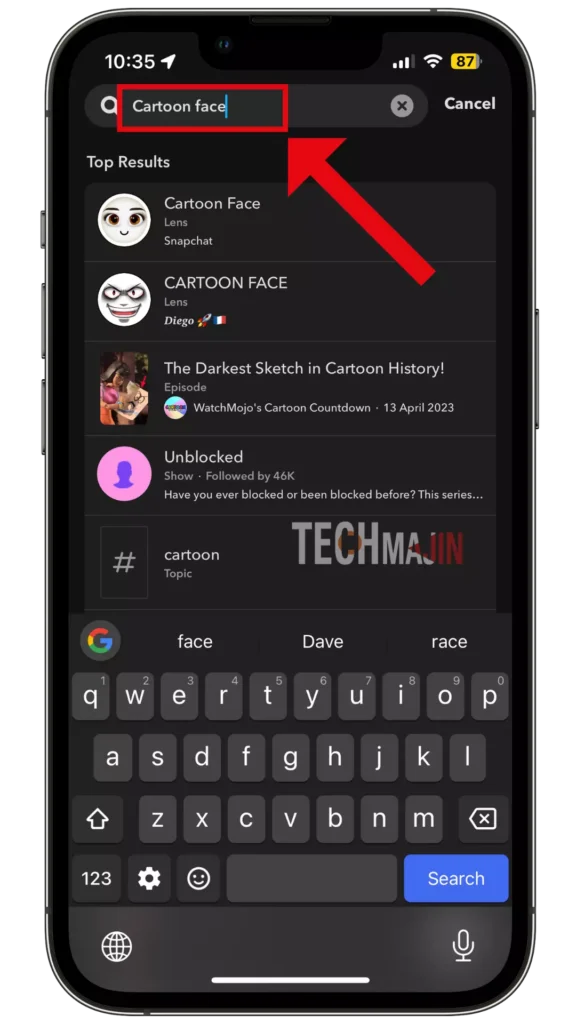 Choose and Activate a Lens: Browse through the options and select your desired lens. Tap the camera shutter button to activate it
Take a Snap: Prepare your shot and press the shutter button to take a cartoon-faced snap.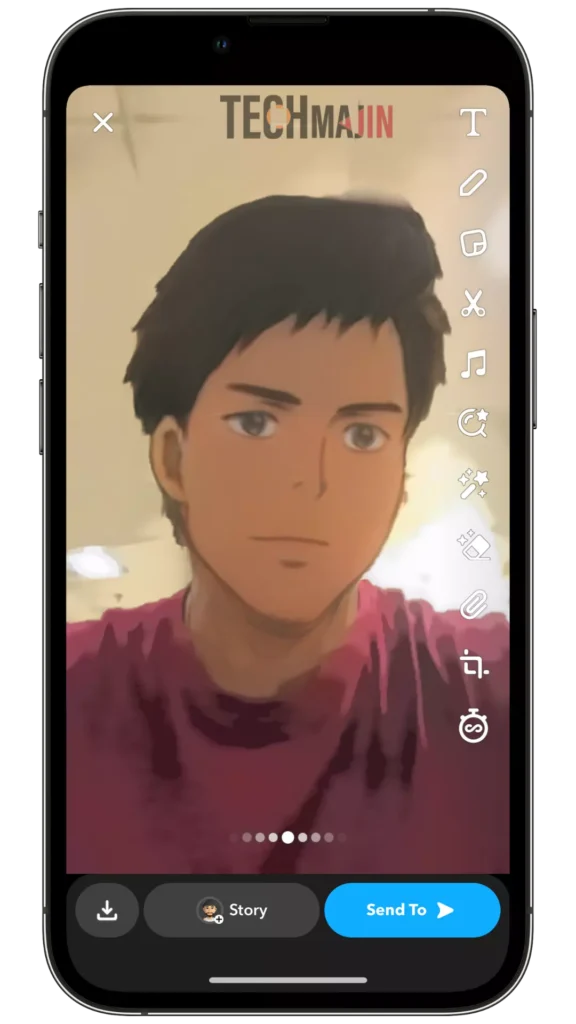 Send to Friends: Customize your snap with text or stickers if desired, then tap "Send To," select friends, and tap the "Share Icon."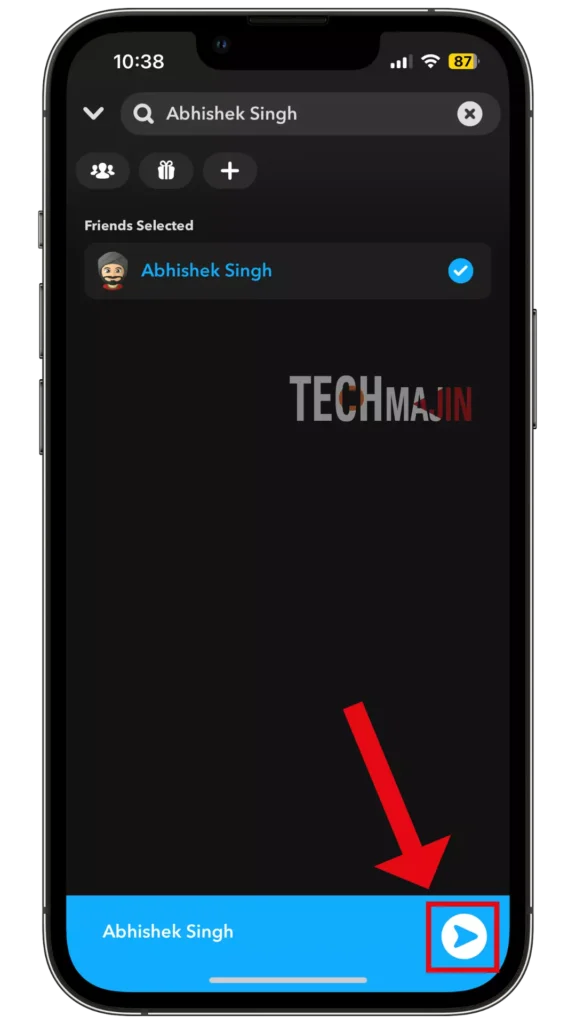 Also Read:- Recover "My Eyes Only" Password on Snapchat
Tips to Send a Perfect Snap
Good Lighting: Ensure your face is well-lit for the lens to work effectively.
Experiment: Try different lenses to see which one resonates with your mood or style.
Stay Updated with Trends: Regularly browse the Explore page for new and trending lenses.
Customize Your Experience: Make use of additional editing tools to stand out.
Engage with Snapchat Communities: Collaborate with other users to expand your cartoon lens horizons.
Top Cartoon Face Lenses on Snapchat
Snapchat offers an abundance of lenses that cater to various tastes and preferences.
Cartoon 3D Style: A sensation of the summer of 2023, perfect for turning snaps into Pixar-style artwork.
Anime Style Lens: Ideal for anime enthusiasts, offering a charming transformation into a 2D character.
Doodle Cartoon Lens: Unleash your inner child with this playful lens, turning you into a stick figure.
Cartoon Kid: Relive your childhood with this filter, transforming into a cute cartoon baby.
Sparkling Cartoon-Style Lens: Add elegance with sparkling animated effects.
Customization Options
Add Text: Personalize your snaps with captions.
Overlay Stickers: Enhance visuals with Snapchat's in-built stickers.
Conclusion
The cartoon face lens on Snapchat has redefined how we communicate and express ourselves in the virtual world. It is not just a feature, rather it is a celebration of art, culture, nostalgia, and innovation.
With this guide, you are all set to embark on a delightful journey, turning everyday moments into magical cartoon memories. Whether you are a Disney fan or an anime lover, Snapchat has something for everyone. It is time to explore, create, and share your cartoon avatar with the world!
FAQs
1. What is a cartoon face filter on Snapchat?
The cartoon face filter on Snapchat is a fun feature that transforms your face into an animated version. It uses augmented reality technology to stylize your appearance, giving you a cartoon-like look.
2. How do you make a cartoon filter on Snapchat video?
To make a cartoon filter on a Snapchat video, open Snapchat, select the camera screen, and swipe right until you find the cartoon filter. Tap it, record your video, and the cartoon effect will be applied.
3. What filter makes you look like a cartoon character?
The filter that makes you look like a cartoon character on Snapchat can be found among the face filters. Swipe through them until you find the cartoon-like effect, and apply it to take a photo or video.
4. How do you use cartoon filters on Instagram?
To use cartoon filters on Instagram, open the camera in the app, scroll through the filter options at the bottom until you find the cartoon filter, and apply it to your photo or video. You can then capture or record with the cartoon effect applied.
Also Read:-