Instagram is the ultimate digital playground for creative souls and social media sensations. With its vibrant filters, photo editing tools, stories, reels, and more, it's so obvious why Instagram continues to be one of the most popular platforms on the web.
With so much content to binge upon, no wonder why so many people are spending hours on Instagram. It can be hard to disengage from the endless scroll of posts and stories, or the array of filters that make your photos look oh-so-good. But now Instagram has announced a new feature that will help you to take a break from the incessant scrolling.
Quiet Mode on Instagram – What You Need to Know?
Quiet modes are not new, Facebook already has this option in place. But still, if you are an avid Instagram user, this feature might come in handy.
Quiet mode is a great feature for those who feel overwhelmed by their notifications or want to take a break from Instagram without having to explain themselves.
This feature will turn on the auto-reply function, which will let people know that you are away from the Instagram app and unable to reply for a period of time.
Furthermore, you can also silence incoming notifications to enjoy a peaceful break from your feeds. All of this can give you a sense of control over your social media usage and will also encourage healthy boundaries with friends and followers. This might also help in reducing anxiety around spending time away from the app.
How to Turn ON Quiet Mode on Instagram?
With Quiet mode, you can keep your day distraction-free and stay up to date with the notifications that matter the most. Try it now using the following steps:
Open the Instagram app.

Tap your profile picture at the bottom right to go to your Instagram profile.

Then press the menu icon in the top right of the screen.

Tap 'Settings'.

Go to the 'Notifications' section.

There you will see the option to turn the 'Quiet Mode' on.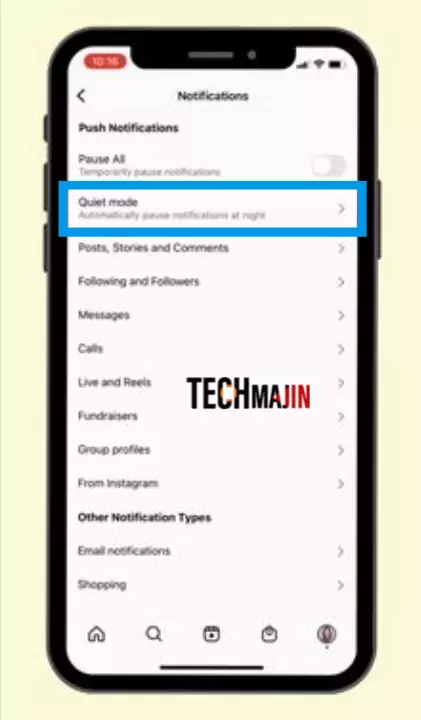 Turn the toggle on to activate 'Quiet Mode'.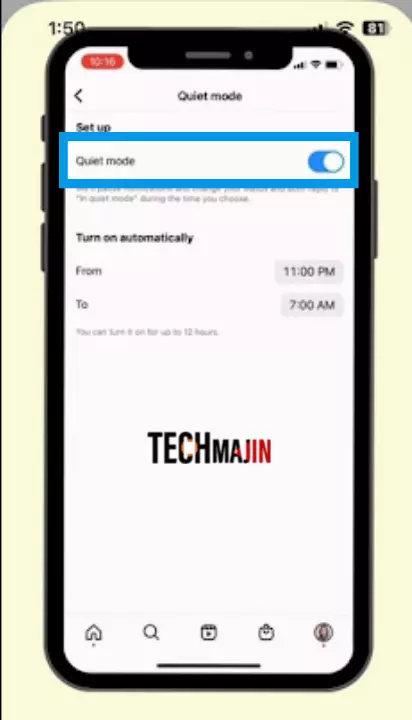 You can easily customize your Quiet mode hours to make sure it fits with your daily schedule. Also, keep in mind that you can only turn it on for a maximum of 12 hours.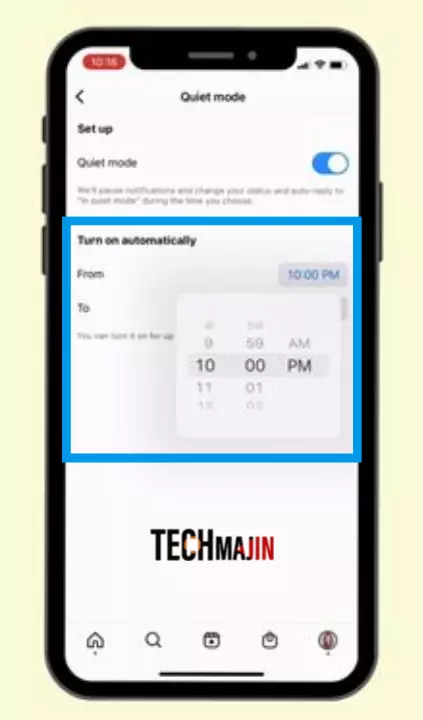 This is how the 'Quiet Mode' will appear on your Instagram profile once you have turned it on.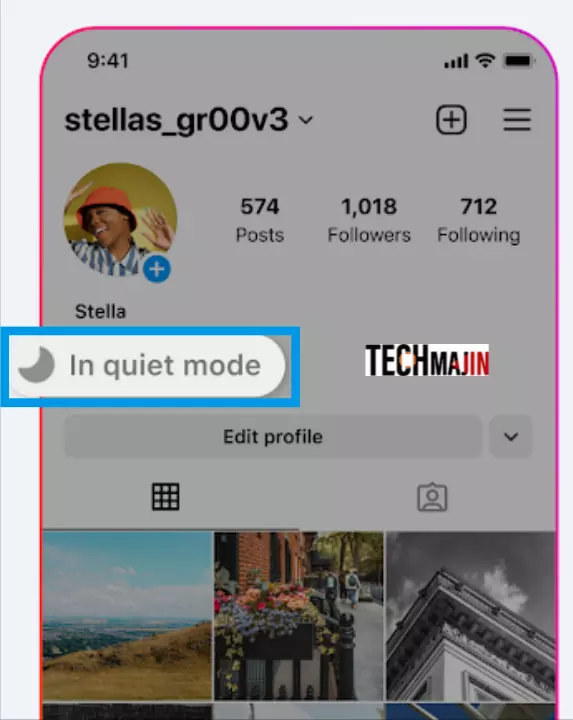 How to Turn OFF Quiet Mode on Instagram?
The steps to turn off Quiet Mode are basically the same as above:
Go to your Instagram profile 'Settings'.

Press the 'Notification' section.

Tap 'Quiet Mode'.

Turn the toggle off to disable the quiet mode.
When you turn off the feature, Instagram will provide you with a quick summary of all the notifications that were silenced. So, there is no need to worry about missing out on important messages while you are on a break.
FAQs
Can I silence Instagram DMs?
You can turn on 'Quiet Mode' on Instagram to silent the DMs during those hours for which you have turned it on. After turning on the 'Quiet Mode', you will still receive messages on Instagram. However, the sender will be able to see that you have turned on the quiet mode and he will know that you will not receive any notification for it.
How does quiet mode work on Instagram?
Once you enable quiet mode, an auto-reply will be sent to anyone who attempts to contact you on Instagram via direct message. This allows you to remain focused on school and studying without having to worry about being disturbed. You can customize Quiet Mode hours when needed and confidently take a break from notifications, direct messages, and the activity status of your profile.