Are you a fan of movies and blockbuster series, but don't like going to the cinemas back and forth? If yes, then do not worry because you can easily build your home theater.
Let's admit that the increase in the popularity of streaming services has spurred the development of home cinemas. Similarly, the desire for a cinematic experience within the comfort of our homes has led to the development of several entertaining technologies. Yes, just adding a sofa and screen in a room is not enough, as you have to meet some bare minimum requirements, so you can truly achieve the best cinematic experience for several years.
If you are looking forward to building your home theater, then follow the steps below.
Planning and Designing Your Home Theater
This section covers everything you need to know about designing your home theater. Carefully follow the steps listed below to build your home theater.
Step 1: Set a Budget
Before you start planning, you must set a realistic budget! Building a home theater involves purchasing quality audio and video equipment to furnish the room. You should set a clear budget that aligns with your preferences. For instance, according to Tom's guide, it is possible to blow past the $3,000 mark on any one equipment of in your home theater.
However, the average home theater cost is around $10,000 to 50,000. If you believe this is expensive, then you should consider purchasing things at sales or discounts to avoid overspending on unnecessary extras. Also, if you are building your home theater, you do not have to add everything at the start. Yes, just choose the basics, and you can always add more stuff later.
Do not forget that you must also choose a good cable TV provider, so look for a provider that offers affordable TV plans. For example, you can consider subscribing to RCN TV services. Its TV plans are affordable and start from $34.17 per month. The provider offers 302+ channels and a huge library of on-demand content. Thus, you are bound to get quality entertainment at a great price.
Step 2: Choose the Right Room
After you've figured out your budget, it's time to pick the room. Choosing the right room is like laying the groundwork for your home theater project. You need to think about the space you have available and make a smart choice.
You should consider factors such as room size, layout, and natural lighting. For instance, if you do not have any spare room, you can choose the basement as it has little light and could provide the isolation needed for an immersive experience.
Therefore, make your room as dark as possible and ensure it does not have many windows. The mere reason is that ambient light kills video projection images, and you will never get a cinematic experience. Likewise, subdued lighting enhances your viewing experience and reduces eyestrain during movie marathons. So, choose wisely!
Step 3: Carefully Choose the Equipment
Choose the Perfect Television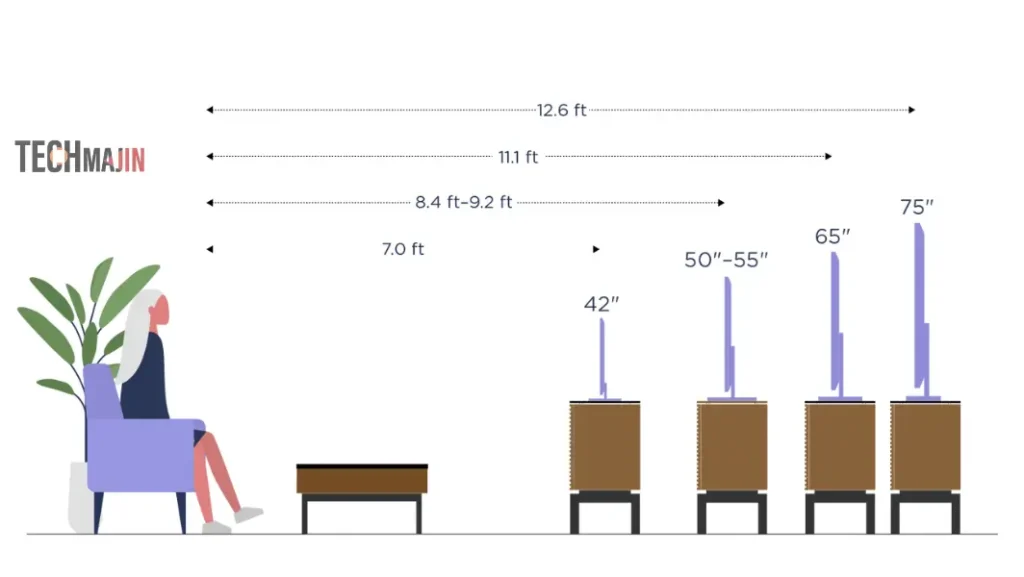 It is safe to say that television is the heart of any home theater! You can choose between TV options like OLED, QLED, and LED based on your preferences and budget. But remember that you want a large-screen TV because the average TV cannot replicate the theater experience you need.
Please do not forget to consider the room size before purchasing a television. For example, if you have chosen a small room, buying a large television would be useless. Thus, you should match the screen size to your room dimensions, ensuring a comfortable viewing experience without straining your eyes.
Also Read:- How big is 55 Inch TV
Choose the Perfect Sound System
A high-quality audio system is essential for a home theater! Audio quality often matters the most in creating a home-cinematic experience. We suggest you go for AV speakers because fancy speakers will not do the job. Moreover, you will not have the sound customization option as only a great AV receiver can offer that.
If you want a proper theater experience, then one speaker will not be sufficient, and you need to add extra speakers in different locations. In addition, strategically positioned speakers ensure balanced audio throughout the room. If you are unable to determine the position, ask the technician for speaker placement to optimize sound distribution.
Step 4: Choose a Quality TV Provider
You must choose a reliable TV provider as it directly influences your ability to fully relish your cinematic sessions. You should carefully research, so you can find a dependable provider and get your hands on quality content.
If you are looking for a provider that offers quality TV services, we suggest you subscribe to RCN TV services. RCN delivers fiber-backed cable services, so you get stronger signal quality and a huge collection of HD channels. It offers all the popular local and international TV channels and on-demand content that you would love to tune into. Simply put, watch box office hits, blockbuster series, and quality family entertainment in HD quality.
If you want to know more about its services, then contact RCN customer service by dialing 844-343-1374. Making the right choice here is important to make sure you get the most pleasure from your home cinema experience.
Step 5: Choose Theater Style Seating
Let's admit, without comfortable seats, your cinema experience will not be enjoyable. No matter how incredible your screen and sound system are, it can be hard to fully immerse yourself in the movie if you are not sitting comfortably. Therefore, investing in cozy seating is significant when setting up your home theater. For example, you can buy leather seats with cupholders, so you can sit back and relax!
To Sum Up
As you can see, building a home theater is no less than a challenge! You must carefully follow all the steps listed above to build your ultimate home theater – after all, it is totally worth it!
If you carefully choose your space, the right equipment, and cable TV provider, you can continue to enjoy the cinematic experience at your home. So, start planning and budgeting for your home cinema today!
Read Next:- HuraWatch