Snapchat has two types of accounts: the regular, free Snapchat account and the Snapchat Plus account, which costs $3.99 every month. You might ask, "What's special about Snapchat Plus?" or "Is Snapchat Plus the same as Snapchat Premium?" This article will clear up those questions. We'll explain what you get with a Snapchat Premium Account and how it's different from the Plus version.
What is Premium Snapchat?
Despite the common misconception, a premium Snapchat account is not a distinct account type provided by Snapchat. Instead, it refers to an optional feature that users can toggle on or off based on their preference. A premium Snapchat account is a regular account turned private, allowing the account holder to share exclusive content with friends in exchange for payment.
The highlight of a premium Snapchat account lies in its ability to monetize personal content. With Snapchat's robust end-to-end encryption, many account holders confidently share adult content with their subscribers. However, this isn't the only use case. Numerous individuals use the premium account to showcase various talents and quality content, establishing a diverse subscriber base with varied interests.
While the term 'Premium Snapchat' is unofficial, Snapchat+ is a genuine subscription-based feature offered by the app. As a Snapchat+ subscriber, users get access to a lot of advanced functionalities, letting them delve deep into their favorite features and experience Snapchat like never before. And the cherry on top? Subscribers get a sneak peek into new features before the public!
Key Features of Snapchat+
Here's an exhaustive list of features that are accessible exclusively to Snapchat Plus subscribers:
1. Custom Story Expiration
Snapchat's stories traditionally vanish after 24 hours, but with Snapchat Plus, subscribers can adjust the duration of their stories anywhere from 1 hour up to a full week. This flexibility allows users to keep their stories active for a duration of their choice.
2. Custom Notification Sounds
Snapchat Plus users can personalize notification sounds for distinct contacts. This feature ensures that you can identify the sender of a Snap or message without looking at your device. With 12 different tones available, customization is right at your fingertips.
3. Pin Friend as #1 BFF
Snapchat+ introduces the ability to pin a contact atop the chat window, designating them as your #1 Best Friend Forever (BFF). This is possible even without mutual BFF status. Traditionally, a red heart emoji denotes BFFs who have been each other's top friends for two weeks.
4. Snapchat+ Badge
Subscribers to Snapchat+ receive a distinctive star icon adjacent to their profile name, signifying their subscription status, visible to others who view your profile.
5. Story Rewatch Count
Snapchat+ users can see how many times friends have replayed their stories. This feature is currently experimental and may be rolled out to a broader audience soon.
6. Snapchat Planets Solar System
Snapchat+ introduces the Friends Solar System, where your top eight friends are displayed as planet-like friendmojis, and you symbolize the Sun. The Snapchat planets appear in an order and indicate the degree of interaction you have with each friend.
7. Exclusive Snapchat App Icons
Snapchat Plus subscribers have access to over 30 custom app icons, with new additions being made regularly.
8. View Change in Snapscore
Snapchat Plus enables users to view real-time changes in their friends' Snapscores, which typically might take hours or days to update.
9. Custom Chat Wallpapers
Snapchat Plus users can set personalized wallpapers for individual and group chats.
10. Story Boost
Subscribers can boost their story to the top spot for 24 hours, ensuring greater visibility among friends. This feature is available once per week.
11. Replay Snap
Unlike standard users who can replay a snap only once, Snapchat Plus users can replay any snap twice after viewing it.
12. Priority Story Replies
Snapchat Plus ensures that your responses to community stories by Snapchat Stars are prioritized and more likely to be seen.
13. Post View Emoji
Subscribers can set an emoji that automatically appears when friends view their Snap.
14. Premium Profile Backgrounds
Snapchat+ offers exclusive Bitmoji Backgrounds, some of which feature the Snapchat+ logo subtly, allowing users to showcase their subscriptions.
15. Custom App Themes
Snapchat Plus offers comprehensive theme customization options, ranging from pre-built themes to mixing and matching elements.
16. Chat Effects
This feature allows users to resize text messages, adjusting them to convey emotions.
17. Ability to Change the Home Tab
Snapchat Plus users can customize their default home tab, changing it from the camera screen to chats or the spotlight tab.
18. Customize Bitmoji on Snap Map
Snapchat Plus takes Bitmoji customization a step further by allowing users to accessorize their Bitmojis with pets and cars on the Snap map.
19. Snapstreak Restore
Snapchat Plus users receive up to 5 Snapstreak restores per month, ensuring they can maintain their streaks more easily.
20. UnPin My AI Chatbot
Snapchat Plus provides users the option to unpin or disable the integrated ChatGPT-powered bot, My AI chatbot, from the top of the chat screen.
21. Extended Best Friends List
Snapchat Plus expands the Best Friends list, allowing users to have and view 16 Best Friends instead of the usual 8.
22. Custom Chat Colours
Subscribers can personalize the chat color, changing how their name appears on the chat screen.
23. Extended Snaps
Snapchat Plus introduces AI-powered extended snaps, allowing users to create a zoomed-out version of every snap captured, albeit with a processing time of up to 15 seconds.
Note: The subscription price for Snapchat+ might vary based on your country and device. For the most accurate pricing, navigate to your Snapchat Settings and select 'Snapchat+' or contact Snapchat support.
How To Create a Premium Snapchat Account?
Snapchat has taken the social media world by storm, and one of its fascinating facets is the concept of "Premium Snapchat". But how can one get started? Let's break it down.
Setting Up a Snapchat Account
If you're already a Snapchat user, transitioning to a premium account is straightforward. And if you're new? Setting up a brand-new account is equally simple. Here's how:
Begin by downloading the Snapchat app. It's available on both the App Store and Google Play Store.
Once installed, open the app. You'll be greeted with the sign-up page. Click on "Sign Up" to start the process.
You'll be prompted to input your name. After doing so, tap on "Sign Up & Accept."
Snapchat will now ask for your birthdate.
Choose a memorable username. This will be your identity on Snapchat.
Create a robust password. This ensures that your account remains secure and free from any unwanted access.
Next, you'll be asked to input and verify your phone number. This step aids in password recovery. If you'd rather not share your number, you can choose the "Sign up with email instead" option.
Congratulations! You're now part of the Snapchat community. Find your friends, share snaps, post stories, and even indulge in Snapchat games.
Once set up, transitioning your account to 'Premium' mainly involves altering your account settings. By doing so, you make your account private and can then begin charging followers for access to your exclusive content.
Setting Up Premium Snapchat
Once you have created your Snapchat account, here are some simple steps to activate Snapchat+ and get the premium experience:
Open your Snapchat and head to your profile.
Look out for the "Snapchat+" option and tap on it.
You'll be presented with various features of Snapchat+. Tap "Next".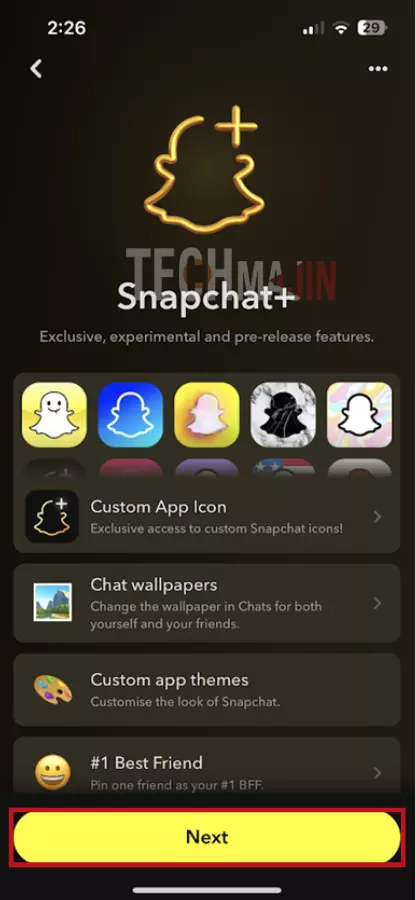 You will see the "Annual Plan" which is free for the first 7 days. Tap "Start Free Trial".
Once you've subscribed by making the payment, give your Snapchat app a quick restart to enjoy all the premium perks.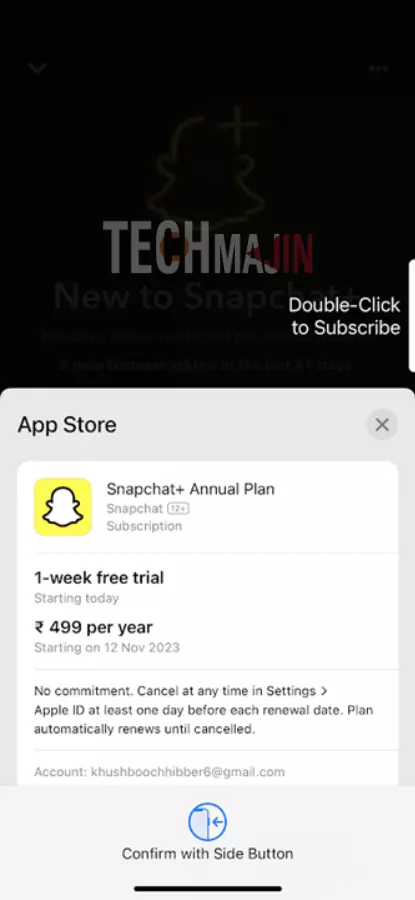 And that's it! You're now ready to explore the enhanced features of Snapchat Premium.
How Much Does a Premium Snapchat Account Cost?
Snapchat+ subscriptions are priced as follows:
Monthly: $3.99 USD
Half-yearly: $21.99 USD
Annually: $39.99 USD
FAQs
How Do I Benefit from Premium Snapchat?
Premium Snapchat is a unique way to monetize your content on the platform. By sharing exclusive photos, videos, and stories, you can entertain and engage with your followers, and in return, earn money. The best part? If you already have a standard Snapchat account, you can effortlessly switch it to a premium version and start generating revenue.
How to Unsubscribe from Premium Snapchat Subscription?
If you decide that a Premium Snapchat account's content isn't for you anymore, unsubscribing is straightforward. Simply press and hold on to a story from that specific account and deselect the "Subscribe" option. This action will cancel your subscription immediately.