To log in to your UKG Pro account, you will need to access their website at signin.ultipro.com/ui. Whether at home, in the office, or on your phone, you can easily log in to UltiPro using your designated username, password, and corporate access code. This guide will give you all the information about UKG Pro and how to log in and access your account.
About UKG Pro
UKG Pro, developed by Ultimate Kronos Group, is a renowned human capital management (HCM) software dedicated to providing cloud-based HR solutions. It offers a comprehensive suite of HR, payroll, and talent management solutions designed to enhance your employees' overall experience.
Here are the key features of UKG Pro:
Human Resource Functions: Efficient payroll, tax management, benefits administration, and employee learning.
Use of Artificial Intelligence and Machine Learning: Utilizing advanced technologies for employee surveys and sentiment analysis.
Mobile App: Enhancing productivity and engagement through convenient mobile access.
Talent Management: Powerful tools for performance management, succession planning, and career development.
Analytics and Reporting: Powerful workforce analytics and reporting for data-driven decisions.
Business Portal: A centralized portal connecting everyone for improved efficiency.
Time and Attendance: Streamlined management of attendance, time, and schedules.
Recruiting and Onboarding: Simplified processes for hiring and onboarding new employees.
Predictive Analytics: Tools for forecasting and planning HR strategies.
Global HCM: Supporting diverse workforce needs in multinational organizations.
Compensation Management: Comprehensive management of employee compensation.
System Administration: Flexible configuration and customization options.
Payment Services: Integrated payment solutions for financial transactions.
Print Services: Convenient printing and check printing capabilities.
How to Log in and Access UKG Pro Online Portal?
To access the UltiPro UKG Login Portal on your desktop browser:
Simply visit signin.ultipro.com/ui/
Entering the alphanumeric corporate access code provided by your company.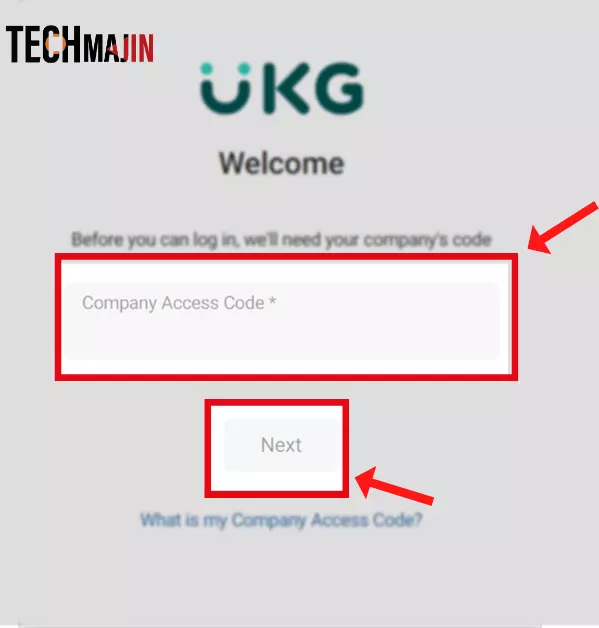 Click "Next" and enter your UKG pro login username and password to complete the UKG Pro login process. 
Note- If your business has a unique URL for UltiPro UKG Login, you can directly click on it to access your company's protected site.
How to Reset UKG Pro Login Password & Username?
On the UKG Pro login page, click on the Forgot Password link.
In the "apt" box, type your UKG Pro (Ultipro) Login username.
Click "Continue".
How to Create a New UKG Pro Account Online?
To obtain the company's UKG Pro access link, please reach out to your IT department or HR manager. Once you have the link, follow these instructions:
Click on the UltiPro UKG Sign-in link provided.
Enter your birthdate in the format DD/MM/YY as the password.
Use your work email address as the login username.
Create a new 8-digit password for your UKG Employee account. It should include a combination of uppercase and lowercase letters, digits, and a special character.
Set up three verification questions to add an extra layer of security to your account.
Choose your preferred method for submitting a recovery password before proceeding.
You May Also Like:- Realcomponline login
UKG Pro Mobile App Store Links
For Android devices, you can download the UKG Pro (UltiPro) App from the Google Play Store and for Apple and iPad devices, download the UKG Pro (UltiPro) App from the App Store. By using the UKG Pro App, you can save your time as you won't need to log in everytime you want to access your account. Additionally, you can receive real-time notifications even when you're away from your workstation.
To get started:
Install the UKG Pro (UltiPro) App on your mobile device.
Open the app and enter the special access code provided by your administrator.
Sign in to your UltiPro UKG Employee account by entering your username and password.
If you require customer service assistance for UKG Pro, you can reach out through the following channels:
Phone Number: +1 800-432-1729
Help Page: Visit the UKG Pro support page at https://www.ukg.com/support
Social Media Links: UKG Pro can be found on Instagram, Facebook, and Twitter.
FAQs
How to log into my UKG Pro account?
To log into your UKG Pro account, follow these steps:
Go to https://signin.ultipro.com/ui/#/.
Enter your company's exclusive access code.
Provide your login information.
Click on the login button to access your UKG Pro account.
How can I find my Username and Password for UKG Pro?
In most cases, your work email address is used as your login for UKG Pro, and your password is set as your birthdate in the format DDMMYY. However, for more information, consult your workplace administrator or contact the IT department. They will be able to provide you with further guidance on the login process.
What are the benefits of Ultipro?
UltiPro, with its cutting-edge HCM technology, has improved employee management for businesses. Furthermore, UltiPro's tax management services provide valuable support to business owners, ensuring accurate and cost-effective tax calculations.
Following the merger of Kronos and Ultimate Group, UKG now has access to UltiPro login capabilities as well.
What to do when you can't log in to ultipro?
If you are not able to access or log in to UltiPro from your home or workplace using the UltiPro sign-in portal, you can try using direct UltiPro login links which are "e13.ultipro.com" and ew41.ultipro.com to access UltiPro.
How to Access Ultipro Company Access Code?
When logging into UltiPro from a desktop, you can locate the business access code on the left side of your profile if your HR administrator has enabled the advertising widget for UltiPro mobile. Alternatively, you can directly contact your HR department to obtain the business access code.
Also Read