Do you want to start your blog for free, but before I will tell you how to start Blogging for free you must know some important points about blogging.
If you are thinking to start your first blog always to try find your Niche. NICHE if you don't know what does this word means let me explain, Niche is a category of something in which you will start writing your blogs so always prefer Niche in which you have lots of knowledge that can actually help your viewers and you have to be perfect In your niche for example- If I will start a blog then I will prefer to write about tech, it can be newly launched phones, laptops etc. because I have a good knowledge about these things that I can share so that it will be helpful for my viewers. So always choose the type of Niche in which you have lots for knowledge.
Blogging is a time taking process so don't be in hurry because I have seen so many people who started blogging and after few months when they didn't get result, they left blogging. But you have to be patience and you only have to think about providing quality content to your viewers, if your content is really providing some sort of help to your viewers they will definitely come back.
Some people always wanted to earn money as quick as possible so don't work for money and focus on your content as I have told you above and believe me guys once your blog will start to get good traffic you can connect to Google Adsense and can earn money. But first try to focus on content.
So here are the steps that you can follow to Start Blogging for Free in 2020
In this method we're using Blogger, blogger is a google based platform which provides you a free platform to submit your blogs and it is one of the famous website to start blogging for free.
Then it will ask you for your gmail address as I have already told you that blogger is google based so you have to use your gmail to sign up.
After signing up with your email it will ask for a Display name. After choosing your display name you will be redirected to a new page click on the Create New Blog button.
Then you will see a box in which you have to choose your title, Address, theme etc.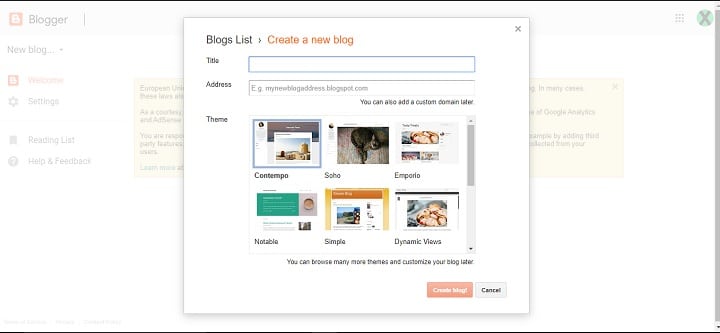 Choose your title
Then choose your address as it will show up in your URL you have to choose something different because most of the time people have already taken that name, it is quiet similar as when we choose a username on Instagram and you will see that blogspot.com will automatically come after your address because it is a sub domain.
After this choose a theme for the list, Note- if you don't like any of the themes , you can change it any time and you can also download theme from other website for blogger and you can upload this to your bloggers page. These themes can be customized as per your needs. If you want to know how to download, upload and edit themes to blogger comment down.
→You have almost created a bloggers site and now you have to just click on Create a new post and then you can just Write about anything you have interest in and then just click on publish button after writing your blog.
Now you have created your First free blog , Congratulations now work hard and never quit one day it will work.
Comment down for any questions.