Ford v Ferrari
, one of the great stories in motorsports. In the mid-1960s, Henry Ford II decided to build up his company's reputation by getting into racing. To strike that fire of effort, he tried to buy Ferrari, only to be rejected and insulted by Enzo Ferrari himself. Out for revenge, the grandson of the great Henry Ford-1 hired former racer/engineer Carroll Shelby, played by Matt Damon, to do whatever was necessary to build a car that will defeat
Ferrari
at the world's most prestigious race, the 24 Hours of Le Mans. Shelby brought in Ken Miles (Christian Bale), the best driver he knew, to help develop the car and race it. The result is the GT40,
the best Ford ever
, which
unseated Ferrari to take first, second, and third place
at Le Mans.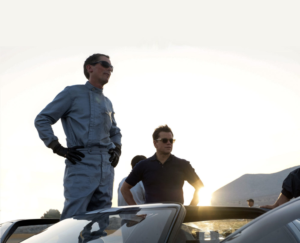 Here's part of the plot for who's reading this article to make you curious for watching this Hollywood movie: When Shelby shows Hank the Deuce the power he's crafting by taking a ride in his race car, pushing him to tears and convulsive laughter; and when Shelby and Miles fight like the middle-aged men they are, while Miles' wife Mollie (Outlander's Caitriona Balfe) lounges nearby with a magazine, then brings her boys sodas. Sadly, the only female character with a line or two is Balfe , and she swings, extraordinary, between being Cool Wife Who Loves to See Her Husband in a Race and her Blanket Who Wants Him Home and Alive. The drama here isn't Ford v Ferrari. It is Men vs The Man (at Le Mans).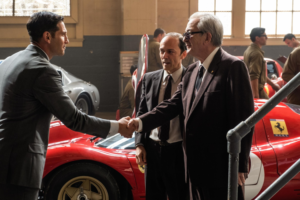 In reality, and in the movie, Ford swept the podium at Le Mans not because Miles outraced Ferrari but because the Italian cars all broke down and the Ford cars excelled. The true drama of the rivalry was in the engineering, a subject to which Mangold paid a whole lot of attention. The making of the GT40 was a years-long effort that started with serious work. It involved dynamometers to abuse engines until they blew up, finding a fix, and doing it again.
So, by all means, go see Ford v Ferrari: It's a fun Hollywood movie that's worth your time, especially if you care a whit about cars. But if you want to understand the true drama of the rivalry between the two big companies of all time, go home and investigate for yourself.
Matt Damon … Carroll Shelby
Christian Bale … Ken Miles
Jon Bernthal … Lee Iacocca
Caitriona Balfe … Mollie Miles
Josh Lucas … Leo Beebe
Noah Jupe … Peter Miles
Tracy Letts … Henry Ford II
Remo Girone … Enzo Ferrari
Ray McKinnon … Phil Remington
JJ Feild … Roy Lunn
Jack McMullen … Charlie Agapiou
Corrado Invernizz … Franco Gozzi
Joe Williamson … Don Frey
Ian Harding … Ford Executive Ian
Christopher Darga … John Holman